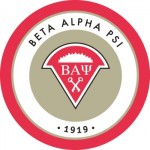 Beta Alpha Psi is a national scholastic and professional accounting organization formed in 1919.
The primary objective of the organization is to encourage and give recognition to scholastic and professional excellence in the field of accounting.
This includes promoting the study and practice of accounting, providing opportunities for self-development and association among members and practicing accountants, and encouraging a sense of ethical, social, and public responsibility.
Beta Alpha Psi gives students increased opportunities to network with professionals, learn about the many fields of accounting, and socialize with fellow accounting students.
The Oregon State University chapter is called the Epsilon Chapter, because it was the fifth chapter organized in the nation.
Click here for an article on how to become a member (recommended!).